New alternate website address coming soon -
skincream-online.com
Note: This website skin-creamonline.com operates on adobe flash player which will be discontinued starting January 1st, 2021. Because of this our site may not function properly. We will be updating to a new system, but that will take quite some time. We are in the process of completing a new website skincream-online.com and it will be done shortly.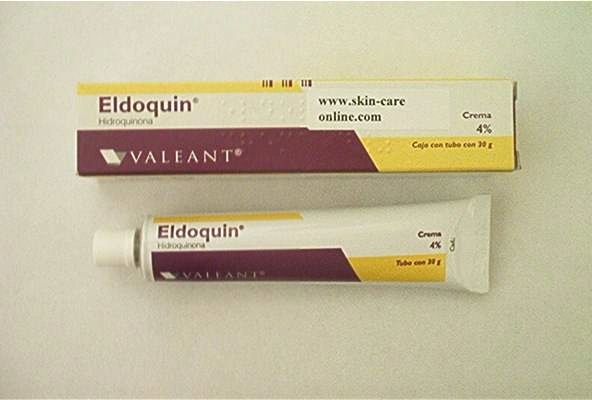 Eldoquin Cream (In Stock)
Eldoquin Hydroquinone 4% Cream
(30 grams)

Price: $65

Because of card processing restrictions we are unable to accept credit card transactions

**********************************************************

There is a delay on echeck orders which are shipped within 1 to 7 business days (excluding Saturday, Sunday, and Holidays). If a screenshot is emailed of the cleared echeck or check we can ship before we are notified that it has cleared.

eCheck or Pay by Mail Add to Cart Link
***************************************************************************
Discounted Eldoquin 4% Cream listed below

Eldoquin Hydroquinone Dosage and Administration:
Apply a thin film of Eldoquin
Hydroquinone
4% Cream twice daily to the area in need of bleaching. Eldoquin Cream should be rubbed into the skin well. Make-up can be applied after the treated area has dried. Most discolorations begin to lighten after four weeks of treatment with Eldoquin Hydroquinone 4% Cream but it may take longer. After desired bleaching, use Eldoquin Cream only as needed to maintain results. After clearing and during maintenance therapy with Eldoquin Cream, sun exposure should be avoided on bleached skin by application of a sunscreen or by wearing protective clothing to prevent darkening from recurring.
Eldoquin Hydroquinone 4% Cream is used to lighten dark patches of skin also called hyperpigmentation, melasma, liver spots, age spots, sun spots, freckles which can be caused by pregnancy, birth control pills, hormone medicines, or injury to the skin.
Hydroquinone is the most popular, and is also the most effective topical hyperpigmenting agent available. What makes Eldoquin the most effective cream is that it contains the key ingredient 4% hydroquinone with no other additives except the cream base. Eldoquin also come in 2% hydroquinone which should be used for individuals with sensitive skin.
Hydroquinone works by inhibiting the conversion of tyrosine to melanin, inhibiting the formation of melanosomes and increase the degradation to melanosomes, and by inhibiting the DNA and RNA synthesis of melanocytes. As a result, hydroquinone affects only cells with active tyrosinase activity. Active tyrosine's activity is only found in epidermal melanocytes.
Discounted Eldoquin Cream
Note: Listed at a discounted price because of the expiration date. The cream doesn't lose any potency until many years after the expiration date or until the the seal is broken on the tube.













More Hydroquinone 4% Products
Tri-Luma l Ultraquin l Lustra l Neostrata l SkinLite l Melalite






Follow Eldoquin Hydroquinone 4% Cream on: